I'm so sad dance classes have finished for the year- they really helped me get through my Mondays. Sideways sadface.
P Diddy and I wandered over to
Trunk
for some evening grub tonight. I can't figure if I love their fries and aioli or their industrial decor most! The place used to be a synagogue 150 years ago and a heritage-listed Coral Tree as old as the building sits proudly in the front courtyard.
I ordered the pizza No. 9 which had chilli, brocolli and italian sausage. P Diddy had the No. 10 which had aged balsamic, pancetta and radicchio (which I thought made the pizza look very pretty). We also got a side salad: witlof, gorgonzola, pear and walnut vinaigrette... but then realised how much we both detest gorgonzola (the sweetness of the pear, the sourness of the vinaigrette, the crunchiness of the witlof and walnut was a lovely combination though!)
Belch. There was also a wedding there tonight... funny night to have a wedding, don't you think?
Yesterday I was busy putting together a present for an expecting couple: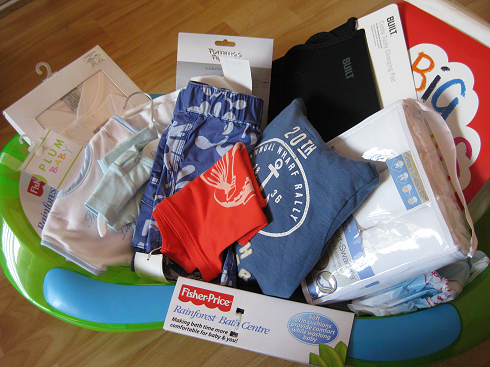 I'm crazy about the plethora of cute clothes they have for newborns and infants at
Country Road
. Wish I were paid to shop...!
TRUNK
275 Exhibition St
Melbourne 3000
Victoria Australia